About the artist
Artist Statement
My creative process originates from a deep intention to compose images of space in a rhythmically fashion, like with music. It's not simply that music inspires me , or takes me to a place of any kind, it's more like writing music as images. It's about creating space.
Coming from my classically trained background in music I experience the visual process in a similar way of music as abstraction. The digital sounds vibrate into a form like pixels in the space. Each sound vibrates leaving a space in between the next sounds.
It always comes to my mind that that music and images are deeply connected in a certain kind of non-verbal description. To me, my paintings are as though sounds and colours interconnect and occur in the space of the canvas at the same time, like a spiral of space-time happening.
Profile
Claudia is a transnational artist concerned with how artists address identity and the modern mind. She grew up in São Paulo with a Brazilian mother and Italian father and has lived in Britain for over 20 years. Sao Paolo is also home to the largest Japanese diaspora in the world, since the first wave of immigration in 1908. It was inevitable that after studying the history of Japanese and Brazilian modernism Claudia would succumb to the spell of Japanese calligraphy and allow it to harness her flow and discipline her mind. "I find it fascinating and inspiring how Japanese monks have recorded poetry on paper and how it becomes a transmission of their experience," says Claudia. "Those calligraphic characters are so meaningful, they have a language, and I am interested in building a language of my own." She has been influenced by all things Japanese, from her early education in poetry, language and mark making.
Her large canvases are a process of application and removal, colour on colour, mark making and minimalism. "I might start a painting with a very thin dark layer like black, I will brush it away until it is transparent, and I carry on removing until there's nothing, then I apply a blue. Applying and removing. I want the viewer to see the colours. At first sight the paintings might seem minimal, but there is a lot going on. There are colours that merge and there are many colours beneath the darkness." By definition large canvases require movement by the artist, so each work is an act of physicality. Claudia has spent time in India studying with yoga masters and she is an Ashtanga practitioner. "When I paint it's a moving meditation, and the mind and the brush strokes are controlled through the breath. My painting is repetitive -like Ashtanga Yoga, when you practice one sequence, there's no going forward until you master the previous move."
Waves & Horizons by Alan Rankle
There is a tangible and literal depth of feeling in Claudia De Grandi's recent works. These new paintings from the two series Waves and Horizons are based on her observations and photographs of the Pacific Ocean and closer to home the steel grey waters of the English Channel near to her Hastings studio. They make sublime and alluringly poetic images, referencing as they do the seascapes of Turner and Whistler while at the same time expanding and revisiting the historical Modernist genre of Colour Field Abstraction,. The paintings in the series work equally well as contemporary depictions of light and movement within water, yet are also pervasively drawing the viewer into the abstract.
In a noticeably filmic way, some of the paintings evoke the darkly threatening waters of a psychological thriller, you can sense a disturbing, metronomic soundtrack hinting at deep waters and danger below the shimmering surface. These themes actively precipitate De Grandi's vision for the entire evolving work as a total immersive installation of painting and music, which will be premiered at an upcoming exhibition in London at Art Project Bermondsey in September. For now, with this specially curated studio exhibition she offers a prelude to what promises to be a visionary, enthralling project.
A Brazilian born artist who lives and works in East Sussex , De Grandi makes her art with well defined and far reaching objectives:
"When I am painting the action of creating connects me to a greater moment of happening – it is the What and the only thing happening at that moment Reality is a mystery. When trying to paint it you then realize it's impossible. It can only be painted as it is immediately seen, in front of you, and then modified by the feeling that it transmits."
De Grandi's works are increasingly attracting art world and press attention via a series of international exhibitions and performance / installations, with her paintings finding eager collectors in New York, Milan, Tokyo and London.
Supporting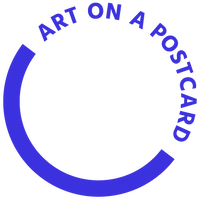 Art on a Postcard (AOAP) - raising money for The Hepatitis C Trust towards its campaign to eliminate hepatitis C in the UK by the year 2030.